#1 Wedding DJ Grand Rapids | West Michigan
This is YOUR special night. Trust #1 Wedding DJ in West Michigan. Voted by Brides for 9 years in a row, award winner of "Couples Choice Award" from Wedding Wire.
This is Your Wedding and Your Music
After all, this is YOUR wedding. We at Dream Productions feel it is an honor and a privilege to be your host and wedding DJ at the most important day of your life. We know you want your guests to love the songs, love to dance and love the night. We know that there are two most important memories that guests take away from your wedding … The DJ and the Food! …. As reported in the Grand Rapids Press survey of weddings. We want you to be outstandingly happy with both, We WILL the first one Happen!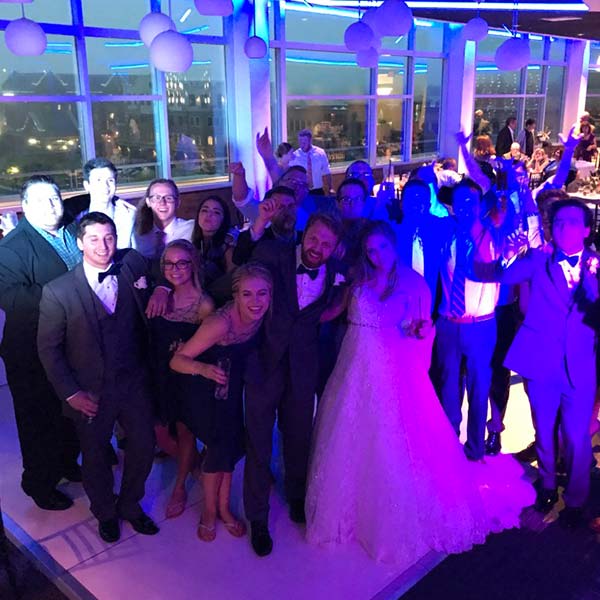 Dream Productions is a Lot More Than a Wedding DJ
Over the 15 years of business, Brides have trusted Dream Productions DJs as their "First Choice in Wedding Entertainment".  Brides have said to us … "I want the dance floor filled for the night". We give you the great music by working WITH YOU … we want you in the planning and picking of the music… and we will help you every step of the way.  You'll get more than great dance music at your wedding reception. You will get a professional Host for your wedding reception. We, during the planning with you, announce your bridal party, introduce your toasts,  prayer before meals, your cake cutting, first dance, bouquet toss, and all the fun things throughout the night.  Dream Productions DJs will keep your reception fun and entertaining. Some DJs (for more or less cost), sit down, (eat and drink) and just play music all night. Dream Productions makes sure your wedding night is absolutely awesome!
Outstanding Wedding DJ Packages
Everyone plans a wedding with a budget… least we hope so! That's why we offer four packages to meet the budget you have. The packages all include up to 7 hours of wedding FUN and entertainment. Packages DO NOT have different DJs …. You get the best (our DJs) regardless of the package you choose. All packages come with your audio CD of the music you selected… our gift to you. All packages are bundled with lights… no extra cost…  99% of our competitors charge extra for lights and give you a small number of hours of DJ time and no CD.
So what's the difference in packages? It's how fancy you want the lights and effects. Please review our packages (link). 
Outstanding Reviews comes from Happiness!
Voted By Brides - #1 Wedding DJ in West Michigan. For 9 years in a row, award winner of "Couples Choice Award" from Wedding Wire.
Be sure to browse our reviews on Facebook (link), our reviews on WeddingWire.com (link)  and our reviews on TheKnot.com  (link) and you'll see why so many West Michigan couples ask for Dream Productions DJs for their Wedding Entertainment. Couples tell friends and family … "Be sure to book Dream Productions for their wedding, party, high school prom, reunion and corporate event".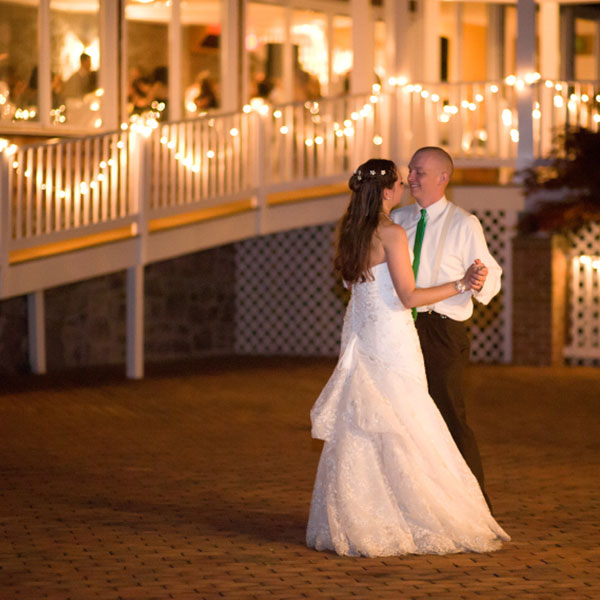 The Most Complete Wedding Entertainment Packages Available!
The most award winning DJs in West Michigan
Hosting and all announcements and all the special events
The most Fun you'll ever have!
Up to 7 hours of entertainment (plus FREE setup & teardown)
We are set up and playing music BEFORE Papa and Grandma arrive
Wedding Planner - Full paper document of the entire evening
Cocktail music, dinner music, non-stop dance music
Complete coordination of activities & events
The Best sound systems in Michigan
The Best wireless DMX digital Light Systems
Back up equipment – ready if needed
Back up DJs – Just in case
Back up emergency generators on call & ready to go and no extra charge - We have needed them! Downtown GR with NO power
Outstanding lighting effects – Using ABC TV's "Dancing with the Stars" equipment
Dancing On a Cloud – Your first Dance together
Over 50,000 songs in our library PLUS all the songs you request
Your audio CD of your picked music!
Professional production and wireless sound for wedding ceremonies
Sound for your Wedding singers, keyboard, and guitar players
Additional hours may be added
One Million dollar insurance policy – Zurich Insurance
Rated A+ from the West Michigan BBB
A Wedding DJ Does Much More Than Just Playing Music
Dream Productions DJs certainly plays the great music, (your music), at the right time during the course of your Wedding Reception. But that's not where it ends. We do so much more than any other DJ in West Michigan.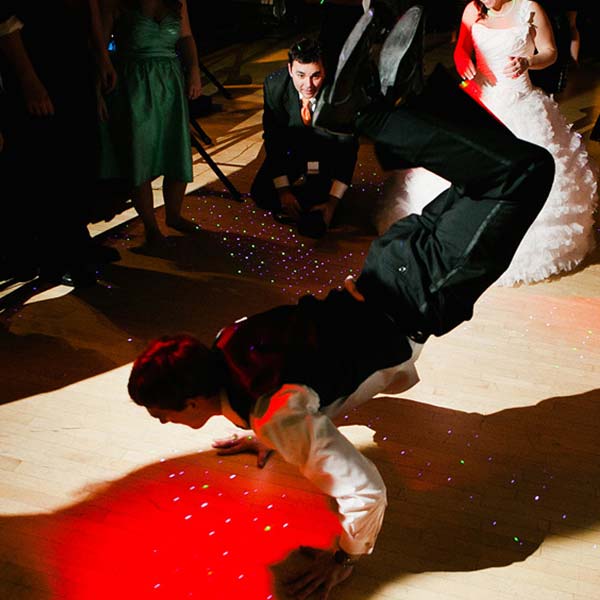 The Wedding Planner
Dream Productions DJ's are here to help make the night "smooth as silk".
We start with the Wedding Planner doc which we composed, and the Bride approves, during the wedding planning session. This keeps the event on track. Sure, we are there to help the bride and groom with last minute changes. We are trained to be flexible.
Here's a great story and true story… Last October, early in the month, when dozens of weddings were being done, all power went out in all of downtown Grand Rapids for many hours. That doesn't stop Dream Productions! In 40 minutes, we had a generator at the site (John Ball Treehouse) up and running and the Wedding Ceremony plus the reception went on as though nothing happened … all at No Charge to the bride or groom!  This is Dream Productions DJ Service!
Hosting and Emcee
Dream Productions DJ is announcing you and your bridal party entrance and making sure you come in with everyone on their feet and applauding you in. We announce the toasts, the prayer and all those you want to speak. Often, we do the directing of your tables, in the order to go up for the buffet and we can make sure your tables is set with your toasts. Our DJs announce your cake cutting, first dance, father / daughter and all the special dances and events you have planned… and perhaps ones you just thought of that night. Remember, we ARE flexible. We are the "go to" for you the entire evening.
You might interview other DJs, ask them what they do and how they do it… then compare.
Audio at its Best – Production Director
We know you will look your best for the best day of your life. We make sure you sound the best! You may have picked the Ceremony Option in one of our packages. We will have everyone in tears or laughter (if that's what happens) hearing you crystal clear with your wedding vows. The reception will be crystal clear as well … All of your toasts… we teach you and your "toasters" how to hold the Shure wireless mics. (How many Hollywood movies show wedding toasts always with a mic squeal first? (Wedding Chasers comes to my mind). We don't squeal … (we have Behringer Anti Feedback equipment). The music from our Mackie SRM450's is tuned for your venue… the dance music will not blow away the older adults and yet as the night gets hotter we can get hotter with the sound. No, we Never use a sub woofer.
Lighting at its Best – Artistic Light Director
Ever hear … "It's all in the lighting"? Our Dream Productions DJ will work with you on making sure the lighting and colors are what you want. Perhaps we need to produce colors to match your bride's maid dresses. We can do! Perhaps our uplights need to be the colors of your table linen and chairs. We can do! Maybe you are all in on MSU or Michigan …. We can do Go Green or Go Blue! Your first dance will look like Dancing with the Stars… we spotlight it and the silhouette makes great pictures. Maybe you want to sparkle … Our Laser system will do just that. Remember… we ARE flexible.
Love the "Wow Factor" with Elegant Uplighting!
Whether you are having a Barn wedding, outdoor wedding or at one of the most lavish venues in Michigan…. The Dream Productions Lighting System will turn on the "Wow" from your guests as they arrive.  We work with you on colors for you pre-cocktail and dinner segments.  All of Dream Productions packages have lights bundled into the package at no extra cost.
What people say about us
Josh was our DJ from Dream Productions and he couldn't have been any more amazing! Right from the beginning Josh made sure that he was going to do whatever it took to make sure we weren't stressed and keep us on track for the evening. He was able to help us transition easily from one event to the next and would check in with us to see how we were doing throughout the night. He made sure we had eaten dinner (Super important!) and would check in with us to see if there was anything else we needed. The music selection was exactly what we wanted and the rest he filled in fit perfectly. We had guests coming up to us telling us the music was great and how much fun they were having. I would HIGHLY recommend Dream Productions for your next event. They're personable, great communication, and tons of fun!

DJ Nikko has been wonderful! Our wedding date is this August and I can't wait for our DJ experience! We will have dance on a cloud, a custom monogram, uplighting, and a custom dj track list. I can't wait for our big day and dream productions has been wonderful!

We used Dream productions for our wedding and the service was excellent, We were very impressed! I would highly recommend them.

This was one of the best choices for my wedding that I made! John was easy to work with and made my wedding and reception music amazing! I can't say enough good things about this vendor! Definitely recommend!!!

We used Dream Productions for a corporate holiday party. John was very responsive and helpful in the planning stage. As for the event itself, John did a great job of tailoring his music to our crowd, and kept everyone happy and engaged with the music. We would certainly use him again.

I was very anxious when picking out a DJ for our wedding reception. The music at a wedding reception can really make the night so much more fun. Dream Productions, without a doubt, was the BEST DJ service I've ever heard. I'm not being bias because I used them, but they are SO helpful and super easy to work with. I would HIGHLY recommend Stacy. She had all my guests with smiles on their faces from the first song, to the last. Not only are they the best for entertainment, but they are also extremely affordable. LOVED them, and would seriously recommend their services. Great DJ Service! Dream Productions DJ Thank you so much for the CD with our music! We are delighted to be able to listen to our reception music again. Thank you for doing such a great job with the music and with the Chinese Tea Ceremony. We were very impressed with your work and will highly recommend you to our friends.

Thank you so much for DJing our wedding. You truly made it a wonderful night with your talent and energy. We are grateful that you could make our reception a blend of both of our personalities and uniqueness as a couple.
Request Availability
Contact us for more information and our DJ availability.